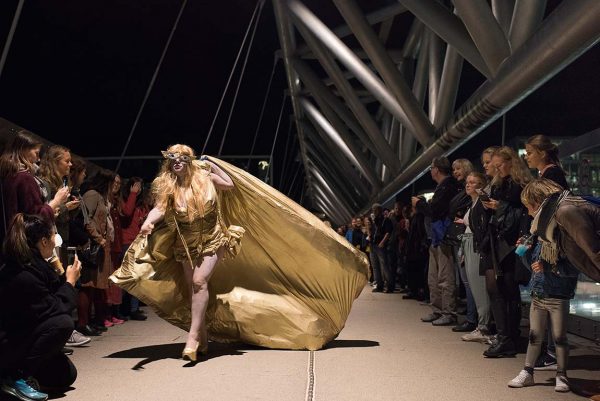 as part of SEXY BYDEL curated by SEXY BOYFRIENDS
Barcode, Oslo, Kulturnatt, September 15th 2017
GOLDEN EXCHANGE was a monumental and chaotic spectacle parading across the bridge at Barcode- one of Oslo's most glamorous, gentrified and wealthy business areas. To the sounds of a sexy saxophone serenade evoking the Wall Street glamour of the 1980s, GOLDEN EXCHANGE dealt with the power relations inherent in resources, geographic positioning and sex. In many ways, GOLDEN EXCHANGE was a Sisyphean feat signifying how the flow of capital as well as urban regeneration and degeneration are constantly in flux and never-ending, just like humanity's urge to have sex and regenerate- preferably higher up the socio-economic hierarchy before death.
Photos by Istvan Virag